RILFY JERSEY
ウサギジャージ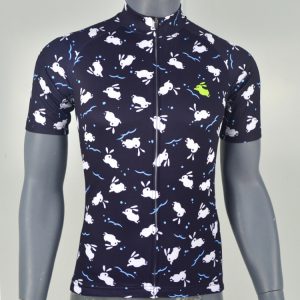 跳び兎  –和柄–
うさぎは前脚が短く、後脚が長くて、坂を登るのが速い事から、物事がトントン拍子に早くすすむ
長い耳は福を集めるといわれています
跳びはねる姿から積極的な行動力・飛躍を表します
昔から月の使いと言われ、「ツキを呼ぶ」縁起の良い動物と信じられています。
「免れる」という字も兔から生まれ悪運や厄から免れる力があるとされています。
見た目にも愛らしく人なつっこさが、人間関係を円滑にするとされています。
古くから東洋では「春」の象徴とされ、優しくおだやかな姿は、家内安泰と平和を意味すると言われています。
うさぎは古来より、子孫繁栄の象徴としても重んじられています。
—
Japanese pattern jump rabbit
The rabbit has a short forepaw, and a hind leg is long, and I am said to be the errand in a month from old days expressing aggressive acting power, leap, and I am believed with a lucky animal "calling luck" by a figure jumping up and down which is said to be it when things are early smoothly, and the advancing ear having a long it gathers fortune because it is fast to climb the slope.
It is said that there is power that the character "avoiding" comes out of Rabbit and avoids from the devil's own luck and an evil.
It is said that taking kindly to people does human relations smoothly sweetly visually.
I am considered to be a symbol of "spring" for a long time in the Orient, and it is said that the kind, calm figure means my wife peace and security and peace.
The rabbit is respected as a symbol of the descendant prosperity from ancient times.
波うろこ –印伝–
魚の鱗をかたどり、三角形の頂点を合わせて積み重ね、地と模様を交互に組み合わせた模様です。
武士の陣羽織や装束に用いられました。後に鱗で身を守ることから厄除けの意味で用いられるようになりました。
—
Japanese pattern"INDEN" wave scale
I model the scale of the fish, and it is likely that I match a triangular top and put accumulation, the ground and a design together in turn.
It was used for a coat of arms and the attire of the samurai. Because I protected the body with a scale later, it came to be used in the meaning of the good luck charm.